Education in Sport
Education in Sport
The "Education in Sport" Division deals with educational questions in sport (Chair: Prof Dr. Ralf Sygusch). Research and work focus on empirical sports pedagogy and didactics with references to sports psychology. Central topics include psychosocial resources, health and competence development, for which fundamental and applied problems in different educational settings (school and club sports, teacher and trainer education) are examined.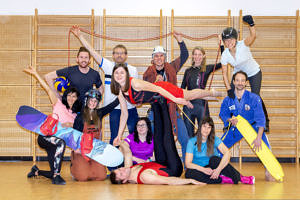 A central focus is the application of research to education in sport, for example in networking with partners in organised sport such as the German Olympic Sports Confederation (DOSB) and the German Sports Youth (dsj).
The main research areas of the Division are bundled in the Campus for Knowledge Exchange and Evaluation Research – Education in Sport (WEBS).
Teaching
The "Education in Sport" Division is responsible for the management and coordination of all teacher training study programmes.
In addition, the Division established and launched the part-time Bachelor of Sports Science course in winter semester 2016/2017.