BIG

BIG – From a research project to a model of good practice
BIG "Movement as investment in health", was an evidence-based model project of health promotion, financed by the federal ministry of education and research. From 2005-2008, BIG investigated the promotion of physical activity among women in difficult circumstances, e.g. women with a migrant background, recipients of state transfer payments or single parents.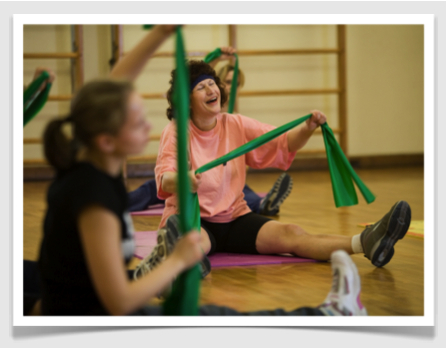 The aim was to develop innovative measures for health promotion through physical activity among this target group to improve their chances to participate in the various positive effects of physical activity by means of a preventive approach. BIG has thus been honoured in many places as a model of good practice. BIG is a case study for two WHO approaches: "Assets for Health and Development" and "Tackling Obesity by creating healthy residential environment". BIG is also good-practice-project in the database www.gesundheitliche-chancengleichheit.de.
Building on BIG, BIGff, (2008 -2009) tested the transfer of BIG to Regensburg and to Bavarian sports clubs. In Regensburg, the project has been running independently as FIT.Regensburg since 2009.
The transfer project BIGGER (2009 – 2010) has tested the transferability of the BIG approach to other regions, on the one hand metropolitan areas such as the Bottrop/Ruhr area, on the other hand rural areas like the district of Uecker-Randow.
With the project BIG.Bayern a manual for the implementation of the approach in municipalities was developed from 2009-2011 and tested in further Bavarian municipalities. The BIG manual provides a step-by-step instructions on how to implement the BIG approach in a municipality.
From 2011 to 2019 the BIG – Competence Centre at the DSS, in cooperation with BARMER, has been offering interested stakeholders from health promotion practice a broad range of services for implementing the BIG approach at new locations.
Brief summary
Period: 2005-2023
Project manager: PD Dr. Karim Abu-Omar
Project coordination: Annika Herbert-Maul
Webpage: www.big-projekt.de