JANPA
Joint Action on Nutrition and Physical Activity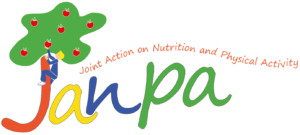 What is JANPA?
JANPA is an EU-funded project on nutrition and physical activity. The main aim is to stop the increase of overweight and obesity among children and adolescents in all Member States by 2020. JANPA highlights relevant factors influencing health policy in the area of nutrition and physical activity for children and adolescents.
Who is involved in JANPA?
A total of 26 countries, 25 EU Member States and Norway participate in JANPA either as official partners or as supporters. The large number of participating countries and organisations opens up different perspectives, approaches and ways of acting and ensures a broad identification of the participants with the project.
What is the aim of JANPA?
JANPA identifies, shares and selects good practice models from the participating countries in order to:
estimate the costs of overweight and obesity in children and adolescents
improve the implementation of inclusive measures that promote healthy nutrition and physical activity in pregnant women and families
contribute to health-promoting environments for children (family, kindergarten, school)
improve the collection and use of nutritional information on food by public authorities, stakeholders and families.
Work packages
JANPA is divided into seven work packages:
WP 1 – Coordination
WP 2 – Dissemination
WP 3 – Evaluation
WP 4 – Costs of obesity in children
WP 5 – Nutrition-related information
WP 6 – Healthy living environments
WP 7 – Early interventions
The cooperation of the ISS focuses in particular on the area of Healthy Living Environments (WP 6). The overall aim of this work package is to support the member states in creating healthy living environments in kindergartens and schools. This is to be achieved through a toolbox to advise decision-makers on the design of measures.
Furthermore, the ISS is involved in the dissemination (WP 2) and evaluation (WP 3) of JANPA.
Further questions
If you have any questions, the project staff will be happy to answer them by telephone or in person.
Publications
Brief overview
Period: 2015-2017
Project manager: Prof. Dr. Alfred Rütten
Project staff: Dr. Karim Abu-Omar, Sven Messing
Sponsor: European Commission
Project partner: www.janpa.eu/partners/partners.asp